APU students, SAKATA Atsumi (APS4, Japan) and OSAWA Masafumi claimed 1st and 2nd prize respectively at an Indonesian language essay contest hosted by the Indonesian Embassy in November 2011.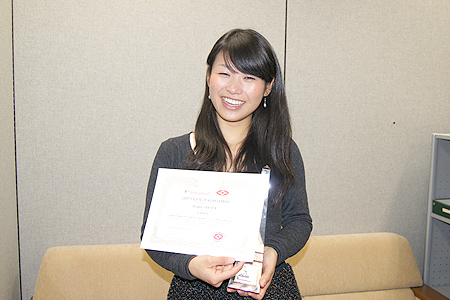 Under the title of "My Indonesian Friends", first place winner, SAKATA Atsumi, wrote about her thoughts towards the personalities of the Indonesian friends and acquaintances she made through club and extracurricular activities. Indonesians, she wrote, are able to remain cheerful and friendly even during times of hardship – a trait that Atsumi put down to the local environment in Indonesia. "I began studying the language when I first became friends with an Indonesian student. Being at APU meant that I had opportunities to interact with Indonesian students on a daily basis and learn more about their language and culture. This raised my interest in Indonesia enormously. After I graduate, I hope to make time to continue studying Indonesian and to work in a job for the benefit of both Indonesia and Japan".

Under the title of "How Indonesia changed my life", second place winner, OSAWA Masafumi, wrote about how his encounters with Indonesians increased his interest in countries and languages. This experience led him to develop and interest in nations and language, an interest which ultimately shaped the theme of his graduation thesis. "I cannot talk about my four years at APU", he said "without mentioning Indonesia". Masafumi commented on his achievement, "With this win, I feel that all the hard work over the last two years of studying Indonesian has paid off. I won't rest on my laurels, however, and I intend to continue studying Indonesian and work in Indonesia in the future".

In addition to claiming first and second prize, an achievement in itself, four of the five contestants who made it to the final screening stage were from APU.

At APU, we aim to provide students with opportunities to develop advanced language proficiency by offering students the opportunities to study six of the major languages of the Asia Pacific, namely, Chinese, Korean, Malay/Indonesian, Spanish, Thai and Vietnamese, in addition to English and Japanese. The vast majority of international students at APU speak at least one of these six languages, enabling language learners to directly interact and improve their language skills with students from these language regions.