On Monday, February 6, and Tuesday 7, 2012, two ANDO Momofuku Honor Prize recipients, seven ANDO Momofuku Award recipients and two Ritsumeikan University ANDO Momofuku Award recipients visited the NISSIN FOODS Group Head Office in Tokyo.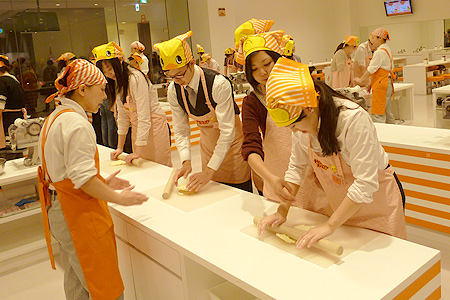 During their stay the group visited the "Cup-noodle Museum" and learnt about the achievements of Honorary Dr. ANDO Momofuku, the founder of the NISSIN FOODS Group, including the revolution he started in global food trends through his invention of the world's first instant noodles. The group also experienced how chicken noodles are made and met with the President of NISSIN FOODS Holdings Co., Ltd., Mr. ANDO Koki, at the NISSIN FOODS Holdings Head Office, Tokyo.

Recipient of the ANDO Momofuku Honor Prize, ONIZUKA Ryosuke (APS4, Japan) said, "The eminent words of Dr. ANDO on display at the museum, 'creativity inspired from our daily life', left a great impression on me. At the same time, I could identify with Dr. ANDO and the importance of facing our daily challenges with a flexible attitude. As a recipient of this award, I hope that I can meet his expectations and make a positive contribution to society".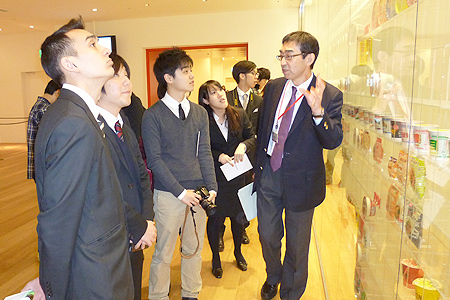 The ANDO Momofuku Honor Prize and ANDO Momofuku Scholarship are available at APU thanks to the goodwill of the founder of NISSIN FOODS, Dr. ANDO Momofuku. These scholarships were established to support the development outstanding students into the next generation of business and society leaders.
More information on this scholarship and the 2011 recipients is listed below.

*The ANDO Momofuku Honor Prize
This scholarship was established through the courtesy of the late Dr. ANDO Momofuku, founder of Nissin Food Products Co., ltd. and honorary doctor. The scholarship aims to support undergraduate students who are scheduled to graduate and who have a strong desire to contribute to the Asia Pacific Region in their future careers. Each year one to two students are awarded this scholarship.

AY2011 Recipients
Md. Asaduzzaman (APM graduate, fall 2011, Bangladesh)
ONIZUKA Ryosuke (APS4, Japan)

The ANDO Momofuku Award
This award was also established through the courtesy of the late Dr. ANDO Momofuku. It aims to support students with high academic merit and insightful personalities who have participated extensively in extracurricular activities and displayed strong leadership qualities. One to four students in their 2nd or 3rd year are awarded this scholarship each year.

AY2011 Recipients
FUKUGAWA Kenzo (APM3, Japan)
HASHIMOTO Kana (APM3, Japan)
KIM Ki Soo (APM3, Korea)
OH Gun Moo (APM2, Korea)
KIMURA Kaori (AMP2, Japan)
LAURENSIA Nathania (APM2, Indonesia)
RAKHMETOV Akmaljan (APM2, Uzbekistan)