On Friday, February 24, 2012, the Ambassador of Mongolia to Japan, H. E. Sodovjamts KHURELBAATAR visited APU and met with APU President KORENAGA Shun and Pro-Vice President, Edgar PORTER.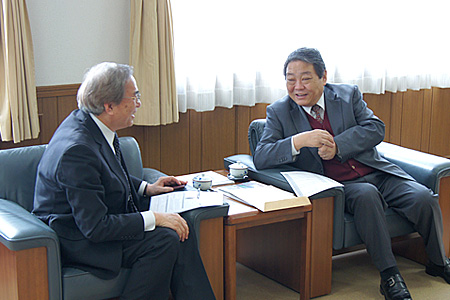 President KORENAGA began by welcoming the Ambassador to APU and gave a breakdown of the number of Mongolian students studying at APU. Professor PORTER then explained his long relationship with Mongolia including his central role in the conclusion of an affiliation agreement between APU and the Mongolian Academy of Management. The group then discussed the relationship between Mongolia and Oita Prefecture including Mongolia's application of the One Village One Product initiative.

Ambassador KHURELBAATAR expressed his hope that more Mongolian students will come to APU and said that "APU is playing an important role in the education of the young generation in Mongolia and I look forward to an even stronger relationship between my country and APU".

Now serving his second term as Ambassador to Japan, Ambassador KHURELBAATAR was also an ambassador member of the APU Advisory Committee when the University first opened in 2000. He previously visited APU in April 2005 as the then Director-General of Asian Department at the Mongolian Ministry of Foreign Affairs.

There are currently 18 Mongolian students studying at APU including three graduate school students.