On Tuesday, February 28, 2012, APU and Kusu Town concluded a Friendship Agreement at a signing ceremony held at the Oita Prefectural Office. Through the cooperation of the community and local authorities, Kusu is currently working towards the realization of a "Truly independent and sustainable Kusu Town" for the 21st century, while APU aims to nurture globally-minded graduates as a centre for education and research. This friendship agreement serves as the starting point for further exchange programs and the foundation of a solid collaborative and cooperative relationship between the two parties.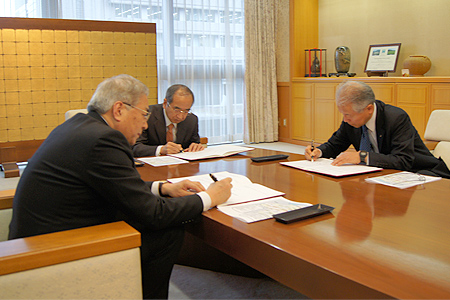 In attendance at the signing ceremony were Mayor of Kusu Town, ASAKURA Kohei, APU President KORENAGA Shun, and official witness, Governor of Oita Prefecture, HIROSE Katsusada. During the ceremony, President KORENAGA commented that, "this agreement will no doubt mark the start of a practical and cooperative relationship between APU and Kusu Town". In response, Mayor ASAKURA said "I look forward to a collaborative relationship that allows us to apply the research APU has carried out in the Asia Pacific region to Kusu Town and our work to develop overseas markets for our agricultural products".

Located in western Oita Prefecture, Kusu Town is situated amongst beautiful natural surroundings including the Kuju Maintain Range and the Yabakei Gorge. Kusu is also known as the birthplace of the renowned Japanese author of children's stories for public performance, KURUSHIMA Takehiko. The town has kept alive Takehiko's spirit of "giving children dreams" and is engaged in town development that meets the needs of contemporary society.

Established at the invitation of Oita Prefecture and Beppu City, APU places a great importance on contributing to the internationalization and revitalization of the region and has since concluded friendship agreements with 19 towns and cities in Oita and neighboring prefectures. APU continues to make its contribution to society and every year over 1000 students participate in a range of exchange events in Oita and neighboring prefectures.