教育プログラム|学生生活|連携事業
Mar 23, 2012
From Monday, March 12, 2012, sixteen students from the St. Edward's University (SEU) School of Management and Business took part in the six-day "Business in Japan" training program at APU and studied Japanese and international management. Concluding on Saturday 17, this program was held as part of the Global Collaborative University Education (GLUE) program between APU and SEU. The GLUE program has been adopted by the MEXT "2011 Re-Inventing Japan Project".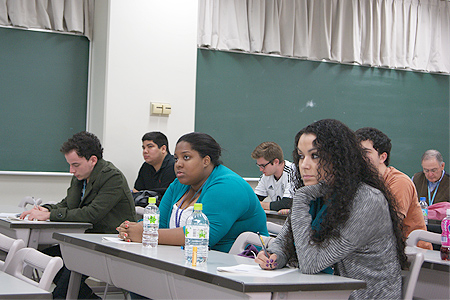 During the program, participants took lectures from APU and off-campus professors, went on inspection tours of the Nippon Steel Corporation Oita Steel Works and a local shopping mall managed by AEON, a developer of large-scale shopping centers in suburban areas throughout Japan and expanding overseas. These inspection tours offered the students the opportunity to experience the Japanese business culture and gain a deeper understanding of how Japanese businesses are looking to expand abroad. The group also visited the Beppu City Hall were council members gave them an explanation of major tourism initiatives and hot-spring tourism, major contributors to the local economy.

On Wednesday, March 14, the group heard lectures by APM Professor NAKAYAMA Haruo under the title of "Challenges facing Japan in the Global Economy", and invited speakers Operations Officer Ms. SHOFU Reiko and Project Manager Mr. CHIDA Katsuyoshi of Hakuhodo Consulting Inc under the title of "Challenges for Japanese companies entering the global market".

During his lecture, Professor NAKAYAMA spoke about a range of topics including the current energy situation facing Japan. A number of students raised questions about natural gas, solar power, geothermal power, and other potential energy sources as replacements for oil. In response, Professor NAKAYAMA suggested that in light of the accident at the Fukushima Daiichi Nuclear Power Plant, people's attitudes towards power generation and supply have changed and that the country needs to find new sources of energy.
In addition to learning about the Japanese economy through lectures, visits and inspections, the participants also had the opportunity to experience traditional Japanese culture through the Japanese tea ceremony, flower arrangement, and Zen meditation.

Program participant, Stefanie Patricia SMITH, commented on her experience, "I really enjoyed this program as it taught me so much, not only about the Japanese economy, but also about Japanese culture and traditions. I hope to put to use the knowledge and experience I gained at APU on this program to good use in my future study and research".

APU and St. Edward's University inaugurated the GLUE collaborative education program in March this year. As part of this program, eight Japanese language-basis students scheduled to enter APU are currently taking part in the two-week American Cultural and Academic Experience at St. Edward's (ACCESS) Program, an English immersion and cultural experience program. ACCESS kicked off on Monday, March 13.