連携事業|社会貢献|講演・シンポジウム
Apr 4, 2012
On Tuesday, March 27, 2012, ten APU students of five different nationalities including Japan, Korea and Sri Lanka, took part in a Japanese government-hosted symposium at Yonsei University, Korea. Under the title of "Korea Next, Japan Next ~ the role of Japan and Korea in the creation of a new future for East Asia and the World", this symposium was planned and managed with the cooperation of Ritsumeikan University, APU and Yonsei University (Korea).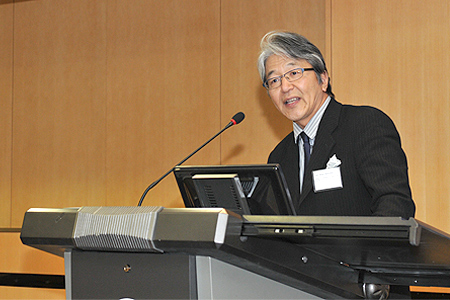 During the morning session, Professor KIM Ki-Jung. (Dept. of Political Science, Yonsei University) and Professor YABUNAKA Mitoji (APU Academic Advisor, former Vice-Minister for Foreign Affairs and Specially-Appointed Professor at Ritsumeikan University) spoke under the theme of "The Japan-Korea relationship following the 3.11 Earthquake and requirements for further development". During his lecture, Professor YABUNAKA said that "Although the problems we face are mounting, Japan is making positive steps towards recovery. For the future of Japan, Korea and the entire East Asian community, it is vital that we develop a deeper understanding of each other. It is vital that the young generation become key players in the promotion of mutual understanding, interaction, exchange, and friendships between Japan and Korea".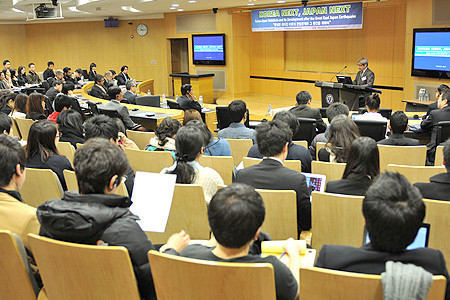 During his lecture, Professor KIM said: "The age of rivalry between Korea and Japan is over and we can now build an age of co-existence and cooperation. When we come into contact historical differences will probably be unavoidable, but we need to be tolerant of each other. It is important that we work together at the local level to engage in cultural exchange and look for areas where we can work together towards a common goal". Approximately 150 students attended the event and actively asked questions about topics such as historical differences, nuclear energy, and the appeal of the "soft-power" that both countries enjoy.

In the afternoon session, students from each of the three participating universities facilitated a workshop under the theme of "Japanese and Korean 'Soft-Power' ~ cultural exchange and our role in international society". During the workshop, student representatives from each university spoke about their involvement in recent initiatives and shared their views on the future of the Japan-Korea relationship. Representative of the APU-NEST student volunteer circle, NAKAMURA Yuka (APS4, Japan), introduced her circle's past and future involvement in the 3:11 earthquake and tsunami disaster relief efforts. Following the presentations, each group then shared their ideas towards future Japan-Korean cultural exchange and expressed their will to promote further opportunities for direct cultural interaction between the young generation of both countries.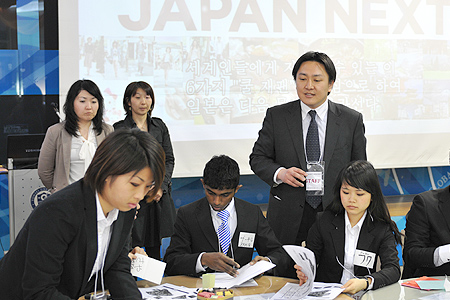 Workshop participant, P.G.I.M. Mohammed Zakir (APM2, Sri Lanka), shared his thoughts on the event: "I'm glad to have been able to participate in this event. It was a great opportunity to learn more about the Japanese and Korean ways of thinking and I realized that they are very similar. I'm sure that Korea and Japan can be pioneers for Asia in the future".

The venue also featured images and panel displays introducing the 3.11 earthquake and tsunami recovery process, aspects of "Cool Japan" including Japanese pop-culture and fashion, Japanese-style hospitality and more.