On Wednesday, April 4, 2012, APU welcomed 1020 new students at the 2012 Spring Entrance Ceremony held in the B-con Plaza, Beppu City.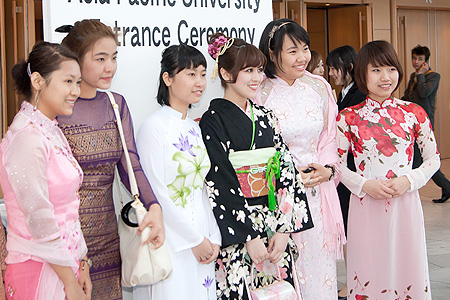 This spring we welcome 923 undergraduate students (723 domestic and 200 international), 20 graduate students (all international students) and 77 short-term and exchange students (31 domestic and 46 international) from 42 countries and regions (as of April 4, 2012).

President KORENAGA Shun welcomed the new entrants and offered a few words of encouragement, "We live in an era of discussion and of conflict resolution through interactive negotiation, and humankind will have to evolve. We live in an age when every country is striving to cultivate people who can conduct calm yet tough negotiations in a range of fields including politics, diplomacy and trade. If you put your mind to it, this is precisely the kind of person you can become over the next four years at APU. After that, the sky is the limit".
Following the Present's address, Ms. ISKANDAR Zaza Hazadiah (APS4, Indonesia) welcomed the new students as representative of the APU student body. This was followed by speeches by Mr. TAKASE Junichi Charles (APM, Japan) and Ms. HUANG Hsiang Yun (GSAM, Taiwan) on behalf of the new entrants.

Mr. TAKASE said "Fellow undergraduates, I stand here before you offering everyone and myself the challenge. We are going to work harder than we have ever worked before. But that's fine; we will get tougher with it. Let's make the next four years fruitful, enjoyable and above all challenging. Let us make friends and manage our time wisely. Together let us shape our world; together let's shape a better a world".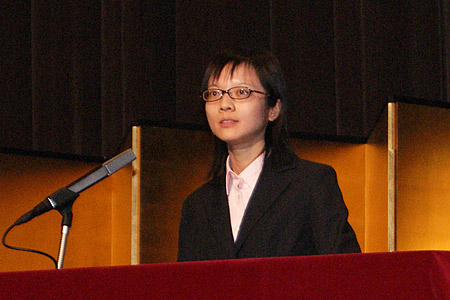 Ms. HUANG then greeted the audience, "I came to APU with a mission to bring back to my country the new ideas, knowledge and ways of thinking that I can acquire from my study and life here. I have the conviction that my life experiences here will greatly broaden my vision and my mind. I will do my best to live hard, study hard, play hard, and experience everything to the fullest without regrets".

As a finale to the Entrance Ceremony, current APU students introduced a number of student circles through short performances and expressed their support to the new entrants as they begin their new life at APU.
The Entrance ceremony was also broadcast live on the internet via Ustream. Footage can be viewed here.
Ustream Channel: http://www.ustream.tv/channel/ritsumeikan-apu