教育プログラム|連携事業
Apr 13, 2012
On Monday, April 9, 2012, a ceremony was held to mark the start of an industry training program for a trainee from Toa Koki Co., Ltd.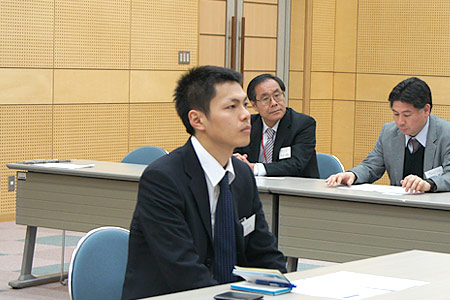 During the ceremony APU Vice-President HIRATA Junichi offered a few words of encouragement, "I hope that you will make the most of your four months at APU to get to know some of our students from around the world at AP House, learn together, and deepen your understanding of different cultures. I also hope that these experiences will help you to define your future career". Dean and Liaison Director, TAKANO Kenji, also offered a few words, "Rather than simply expecting to be taught something, I encourage you to take the initiative and be a proactive program member

Toa Koki Co., Ltd., trainee, MATSUURA Masahiko, expressed his hopes for the program, "I look forward to improving my English, interacting with international students, and opening my mind to different values and ways of thinking". During the 2012 spring semester, Mr. MATSUURA will spend four months studying English and international management theory papers at the College of International Management. During his stay, Mr. MATSUURA will be living at AP House and developing his global outlook with the help of our international students from around the world.

In addition to Toa Koki Co., Ltd., APU has also welcomed trainees from Sony Corporation, Toho Titanium, Sasebo Heavy Industries, Nippon Light Metals, and more, into our undergraduate and graduate programs. Through these training programs, we aim to provide businessmen and women the opportunity to further their education and help them to make their next career step.