On March 28 (Wed) and 29 (Thu), 2012, thirteen APU students from Thailand, China, Korea and Indonesia participated as eight groups in a business competition held at APU that was organized by Benesse Corporation.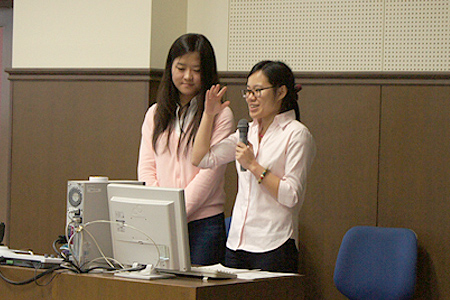 The aim of this event was to hear strategies for internationally promoting the Global Test of English Communication (GTEC), an online English test administered by Benesse Corporation to measure communicational skills.. The eight groups of APU students presented the results of their research into English language education in their home countries and also presented suitable strategies to promote the GTEC in their home countries.

JEONG Won Sik (APM4, Korea) suggested that if the GTEC can be adopted as an English test for global Korean companies, it would gain better name recognition and could be adopted by more domestic Korean companies. CHEN Yiren (APM4, China) and WEI Wenshuang (APS4, China) presented a six-staged business development plan beginning with the adoption of the GTEC as a recruitment test for Japanese corporations expanding into China.

Each presentation reflected a specific national and cultural background and was highly commended by representatives of the event organizer, Benesse. .One representative commented that, "Many aspects of the business plans presented by the APU students will be beneficial for our future overseas strategies and we strongly felt the students have great potential. Well done, all of the APU participants!"

The research results and business plans presented by the students will help to inform Benesse's strategy as it looks towards the future expansion of the GTEC throughout East Asia.

Participants in the Business Competition
Thailand: SUPHASIT Chattraya (APM4), LAOTHEERASIRI Naphat (APM4), SURATHUMRONG Siyapah (APS4), PITAKVORARATN S (APM4), PICHEDVANICHOK V. (APM4)
China: CHEN Yiren (APM4), WEI Wenshuang (APS4), ZHANG Mengdi (APS4)
Korea: LEE Jongho (APM4), WOO Soo Jung (APM4), JEONG Won Sik (APM4)
Indonesia: Fanny Lupita (APM3), Angelia (APM4)