On Wednesday, April 11, 2012, APU and the Ministry of Education and Sports of the Lao People's Democratic Republic concluded a memorandum on a newly established scholarship as part of a Lao government program to improve higher education in that country. Visiting APU from Laos for the ceremony were Dr. Phonephet Boupha, the Director General of the Department of Higher Education at the Lao Ministry of Education and Sports, and Presidents from three Lao national/municipal universities.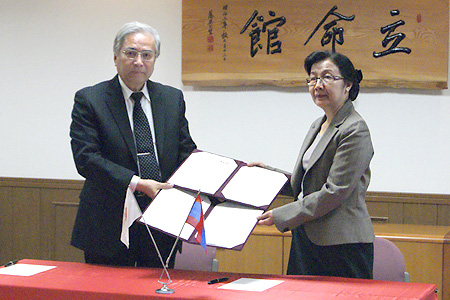 From September 2012 onward, the Lao Government will be dispatching faculty members and government officers to affiliated overseas graduate schools in order to get master or doctoral degrees as part of their "Higher Education Enrichment Project". This three-year project is financially supported by the Asian Development Bank (ADB). The signing of this memorandum was enabled since APU was selected as one of the partner universities for the project.

The signing ceremony was attended by APU President KORENAGA Shun and Director General Boupha, representing Laos. The memorandum itself was signed by President KORENAGA and Director General Boupha and marked the beginning of greater collaboration between the two parties. Director General Boupha commented that, "The conclusion of this memorandum is expected to contribute to the enhancement of our newly established universities" This marks the start of a new type of scholarship in which the Asian Development Bank and APU will jointly cover the recipient's graduate school costs.

Director General Boupha and the presidents of the Lao universities were briefed by President KORENAGA, Vice-President HOMMA and members of the APU executive on Japanese private university management and also enjoyed a tour of the APU Library, Media Center and AP House guided by APU students.

With the signing of this memorandum, APU will now play a major role in supporting the enrichment and improvement of higher education in Laos through accepting five scholarship recipients a year for the next three years.