On Wednesday, May 16, 2012, twelve APU international students were appointed as International Exchange Advisors to Saiki City at a Certificate Presentation held at the APU Convention Hall.

The ceremony was attended by Superintendent of the Saiki City Board of Education, Mr. BUNDO Takashi, representatives of eleven Saiki City primary and junior high schools that the newly-appointed International Exchange Advisors will be visiting, Vice-President YAMAGAMI Susumu and other APU representatives.
Certificates were handed to each of the new student advisors by Mr. BUNDO who then followed with a speech in which he congratulated the students on making it through the very competitive selection process. "I hope that you will use English and share your culture with our students, but furthermore that you will tell them about your hopes and dreams for the future. This will greatly help our students to think about how they want to lead their lives. You have made it through the selection process so I hope that you will play an active role at our schools with a sense of pride and responsibility".

APU Vice-President YAMAGAMI also offered a few words. "Interacting with the children of Saiki and sharing each others background can be a valuable experience for both parties. I hope that you will grow and develop through these experiences".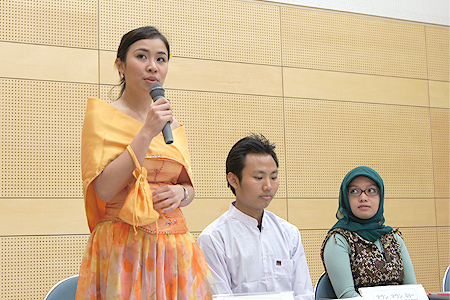 After the new student advisors received their certificates, they introduced themselves, expressed their gratitude to Saiki City for selecting them and offering them the opportunity to work with them. Newly-appointed advisor, VEGAFRIA Elaine Cruz (APM3, the Philippines) said that "I am looking forward to sharing my culture with Saiki children and learning more about theirs".

APU signed a Friendship Exchange Agreement with Tsurumi Town (now Saiki City, Tsurumi) in July 2003 and with Kamae Town (now Saiki City, Kamae) in April 2004. Following the amalgamation of local municipalities, a subsequent agreement was signed between APU and Saiki City in July 2006 ensuring the continuance of this initiative as the "Saiki City International Exchange Support Advisor Program". Now in its 9th year, over eighty APU international students have taken part in this program and contributed to Saki community exchange events.

Over the coming months, the newly-appointed advisors will be visiting Saiki City kindergartens, primary and junior high schools, taking part in exchange events, and supporting local English language education. In addition, plans are also being made for advisors to accompany an envoy from Saki City to their sister city of Handan, China, as interpreters.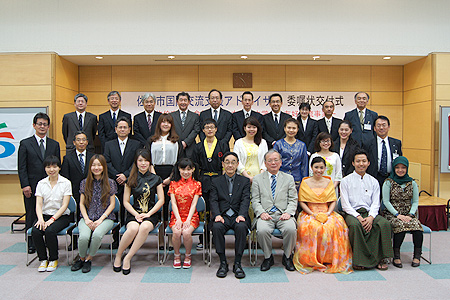 The AY 2012 International Exchange Support Advisors:
Vegafria Elaine Cruz (APM3, Philipines)
MAUNG MAUNG MYO (APM3, )
AISYAH TRI ASTARI (APM", Indonesia)
NGUYEN Thi Phuong Thanh (APM2, Vietnam)
TRAN Ngoc Tram Anh (APM2, Vietnam)
PENGTAKO Thanyawadee (APS4, Thailand)
JIANG Xi Zi (APS2, China))
Ma Shu wen (APS2, China)
ZHANG Chenyang (APM2, China)
LIANG DI (APM2, China)
WANG ZHEN (APS4, China)
Wang Lijin (APM4, China)