講演・シンポジウム|来学者
Jun 1, 2012
On Wednesday, May 23, 2012, H.E. Mr. Lars VARGÖ, the Ambassador at the Embassy of Sweden in Japan visited APU and delivered a special presentation introducing some of the features and characteristics of Sweden to an audience of APU students.
Ambassador VARGÖ began by describing the Viking roots of Sweden and spoke of how despite their aggressive reputation, the Vikings were also active international traders and an early example of Sweden's tradition of connecting with the outside world. "We realized that our country alone is too small to maintain strong economic growth so we have always looked towards the outside world for trading partners and markets to sell our products".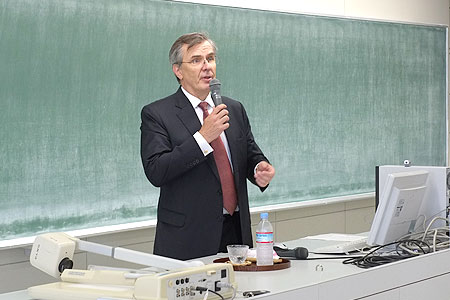 Despite the country's comparatively small size and population, Sweden has produced an impressive array of multinational companies including Volvo, Scania, Ericsson, and Ikea, to name a few. This success Ambassador VARGÖ put down to the Swedish spirit of innovation and an enormous emphasis on education.

Ambassador VARGÖ also spoke of the Nordic nation's tradition of neutrality in foreign conflicts, "We learnt from the pain and destruction caused by the many wars that ravaged Europe over the past centuries that it is better for the nation and our people to take a neutral stance toward foreign conflicts. In fact we will shortly be celebrating the 200th anniversary of not having participated in any war".

Another well-known feature of Sweden is the strong welfare system that affords citizens a free education and health system, but also requires a comparatively high level of taxation. People in Sweden are prepared to pay this level of tax, "because it is a very transparent system and we can see exactly where our taxes go".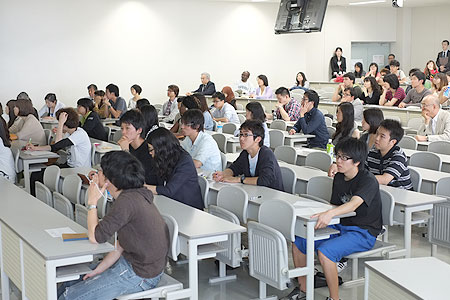 Following the presentation, the Ambassador opened the floor to questions from the audience on a range of topics including Swedish immigration policy and the current Euro financial crisis.

APU currently has one Swedish undergraduate student and has affiliations with six Swedish universities and institutions.