教育プログラム|連携事業
Jun 11, 2012
On Tuesday, June 5, 2012, an opening ceremony was held at APU to welcome four industry trainees (two each) from SONY Corporation and Yamato Transport Co., Ltd. The ceremony was held as part of APU's ongoing acceptance of corporate and industry trainees into our undergraduate and graduate schools.
During their time at APU, the four trainees will study at the College of International Business. During the opening ceremony, the Dean of the College of International Business, YOKOYAMA Kenji, offered a few words of encouragement to the trainees: "No matter how hard you study, the ability to adjust to different cultures is something that cannot be acquired at your desk. However, by living amongst, and studying alongside, our international students from over 80 different countries and regions around the world, you will soon find that you naturally learn how to adapt and understand different cultures. Although you are only with us for two months, you have plenty of time to acquire these skills".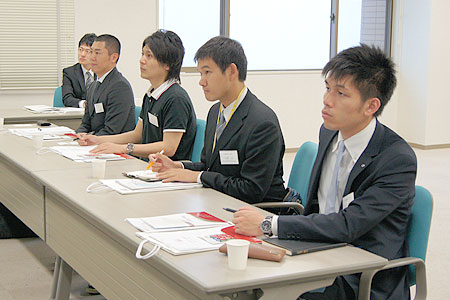 Program leader and APU Liaison Director, TAKANO Kenji, introduced himself and the faculty members under whom the trainees will be studying. The trainees and faculty members then introduced themselves to each other and discussed the content of the training program and classes.

One of the trainees commented that: "Over the next two months I aim to work on my language and communication skills, but also my marketing and other skills that can help me in my daily work. I hope to make the most of the two months I have here". Another trainee commented that: "I look forward to being stimulated by the forward-looking students here and improving my marketing skills".

The four trainees will spend the next two months at the College of International Management studying international management theory and other specialist papers. During their stay at APU, the trainees will be living in AP House, giving them the opportunity to develop a greater understanding of international society and strategy with the help of our international students.