From Sunday, July 1, until Tuesday, July 10, 2012, thirty Indonesian high school students visited Japan and APU as part of the APU Summer Camp 2012. During their 10-day stay in Japan, the students experienced university life through mock lectures and carrying out research, experienced Japanese culture with homestay families in Oita Prefecture, interacted with Indonesian students studying at APU, and visited sites of historical and cultural importance around Kyushu.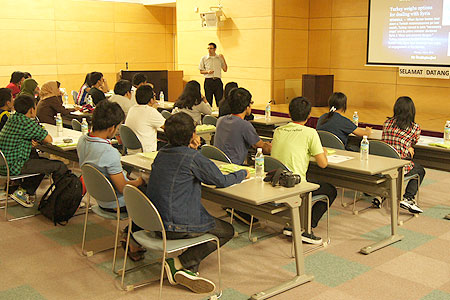 On Wednesday, July 4, the group took part in an introductory lecture with APS Assistant Professor Steven B. ROTHMAN about "International Relations and Power" during which the students were invited to consider issues such as what exactly power consists of and who wields it?, the impact it has on international affairs and the differences between hard and soft power.

On Thursday, July 5, the students visited Oita-Maizuru Senior High School, met with the local students and enjoyed an introduction to Japanese high school life. The group then ventured into Beppu City and, with the aid of APU teaching assistants, carried out research projects including approaching local shoppers and competing questionnaires. They presented their findings the following day to an audience of fellow students, APU faculty and a group of Indonesian high school principals visiting APU on a program running parallel to the Summer Camp. Their research focused on themes such as life in Beppu, Japanese hospitality, customer service, and APU students' contribution to the local community. At the conclusion of the presentations, APS Associate Professor IGUCHI Yufu, offered feedback and suggestions towards further research.

On the final three days of their trip, the students visited sites of cultural and historical importance around Kyushu including the Dazaifu Tenman-gu Shrine, and also learnt about peace studies by visiting the Nagasaki Atomic Bomb Museum and Peace Park.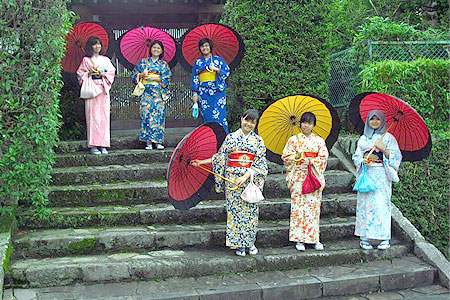 One of the Camp participants, Yustisiana Ardanti (Labschool Kebayoran SHS), commented of her experiences on the program: "I had travelled to Tokyo before and found it very crowded. I enjoyed coming to Beppu because it is much quieter and I can experience the real traditional side of Japan. In the future I hope to study at a Japanese university and this experience has brought me one step closer to my goal".

Every year APU holds a Summer Camp for Japanese high school students to experience university life. Similar Summer Camps have been held for foreign high school students in the past including two camps held for students from Abu Dhabi (UAE). This was the first Summer Camp held for Indonesian high school students.