講演・シンポジウム|来学者
Jul 24, 2012
On Tuesday, July 17, 2012, H.E. Mr. Sami UKELLI, Ambassador of the Republic of Kosovo in Japan visited APU. During his time on campus, Ambassador UKELLI met with APU Vice-President HOMMA Masao and Pro-Vice President Edgar PORTER, and delivered a special lecture to an audience of APU students.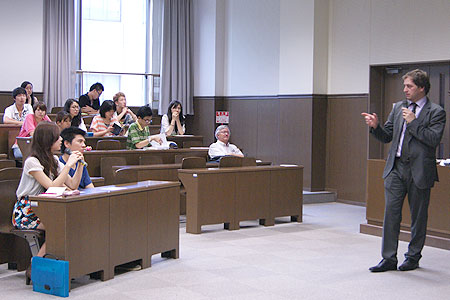 During their discussion, Ambassador UKELLI spoke about the current situation in Kosovo, Europe's youngest country, including the education and business sectors, the role of the UN and the Balkan region's complex cultures, demography and history. "Kosovo has a very youthful population that is eager to receive an education. Our students also need to learn more about the Asia Pacific region. APU is a very unique university that provides everything we need to help nurture our younger generations into future leaders".

Ambassador UKELLI then delivered a special lecture under the title of "Kosovo: the youngest European country – achievements and challenges" in which he described how Kosovo – situated at the crossroads of the East and West and one of the regions of the former Yugoslavia – has endured centuries of upheaval and strife and emerged as an independent republic in February 2008. Despite the nation's war-torn past, the Ambassador emphasized that "Kosovo's greatest unexploited resource, and our greatest treasure, is its youth. We need to apply this youth and energy to develop our nation's future".

Following the lecture the Ambassador then enjoyed a tour of the campus guided by a group of APU students.

Ambassador UKELLI also agreed to become an ambassador member of the APU Advisory Committee - a university support organization that includes current and former heads of state, trade, business and industry leaders, and ambassadors from around the world.