On Wednesday, July 25, 2012, the Makino Textbook Scholarship Presentation Ceremony was held at APU. Nineteen recipients were each presented with a book voucher. This scholarship was established with the aim of reducing students' financial burden of purchasing textbooks.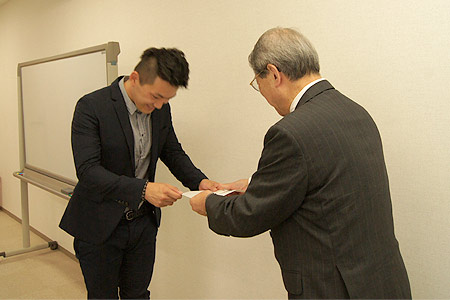 This scholarship was made possible through the generous donations of APU Visiting Professor at the College of International Management, MAKINO Hirofumi, in order to reduce the financial burden for students purchasing specialized, and often expensive, textbooks. "I hope that this scholarship helps you all to get one step closer to realizing your dreams", said Professor MAKINO before presenting each recipient with their book voucher.

Each recipient then expressed their thanks and spoke of their dreams for the future. DU Xiaoming (APM3, China) said, "I am very thankful to receive this scholarship for the second year in a row. It was a great source of motivation for me last year. I hope to go to graduate school in the future and I am sure that this scholarship will help me fulfill this dream".

Following the ceremony, Professor MAKINO shared some of his experiences of studying abroad in America and also some of his recommended books.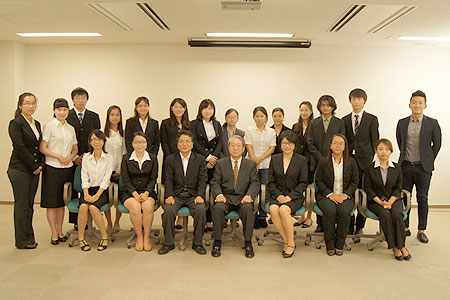 The Makino Textbook Scholarship Recipients

HAN Zhenshun (APS3, China)
DU Xiaoming (APM3, China)
ZHU Wei (APM3, China)
RHEE Sae Pyuk (APM3, Korea)
YU Wan-Chen (APM3, Taiwan)
ARMAS Camille Ruth Marasigan (APS2, the Philippines)
YANG Shengying (APM2, China)
THANYAPAGONPUN Nattha (APM2, Thailand)
LIU Jian (APM2, China)
YU Yake (APM2, China)
LIN Nan (APM2, China)
THAMRONGSAK Nichawan (APM2, Thailand)
LEE Yeah Rim (APM3, Korea)
PHAM Phuong Mai (APS1, Vietnam)
NGUYEN Nhu Ngoc (APS1, Vietnam)
NGUYEN Quynh Chi (APS1, Vietnam)
DO Thi Ngoc Khanh (APS1, Vietnam)
SHINODA Maya (APM1, Japan)
FARHAN Muhammad Akif (APM1, Pakistan)