On Sunday, August 26, 2012, APU concluded a partnership agreement with four other internationally-focused Japanese universities, namely, Akita International University, International Christian University, Waseda University (School of International Liberal Studies), and Sophia University. Through this partnership, these "Global 5 Universities" will work together in order to advance the internationalization of Japanese universities. This agreement marks the addition of Sophia University to an agreement concluded between the other four universities in March 2010.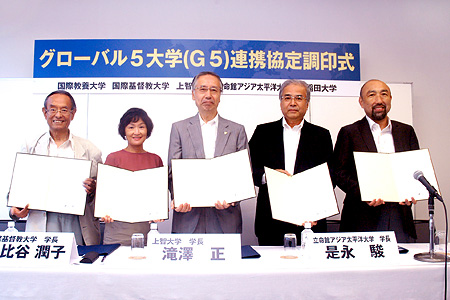 Held in Tokyo, the signing ceremony was attended by Presidents of each university (or college dean, in the case of Waseda University). Following the ceremony, the President of Akita International University, NAKAJIMA Mineo, outlined the goals of G5 as representative of the five participating institutions and initiated a discussion session. APU President KORENAGA Shun spoke of APU's globally-minded graduate development initiatives and expressed his hopes for this new agreement: "I hope that this marks the start of stronger collaboration between the five universities and that we may contribute to the further internationalization of Japanese universities". In response to a question from reporters about Japan's future role, President KORENAGA shared his view that Japan should take the role of a "civil defense nation".
Through this collaboration between five universities leading the cause for higher education internationalization in Japan, APU aims to promote further university globalization through the advancement of greater information exchange between faculty and staff, providing suitable learning environments, and improving educational standards.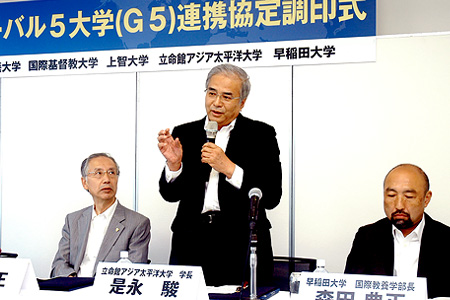 A series of university globalization training sessions for faculty and staff are scheduled to be held in October, November and December this year. These training sessions are being held by G5.
The first training session of this kind was held at APU in March, 2010.
APU news article: "University Internationalization Staff Training at APU – sharing our international knowhow"