On Thursday, September 20, 2012, the Fall Entrance Ceremony was held at the APU Millennium Hall welcoming 496 new students from around the world.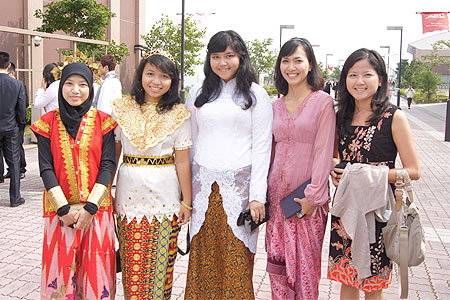 This Fall the University welcomes 372 undergraduate students from 47 countries and regions (37 domestic and 335 international), 52 graduate students (1 domestic and 51 international) and 72 short-term and exchange students (6 domestic and 66 international). (As of September 14, 2012)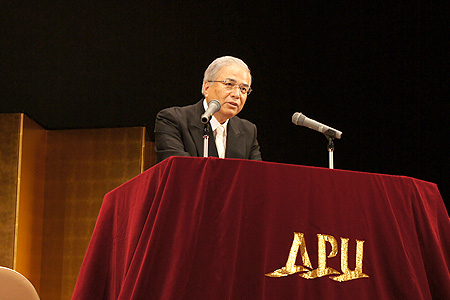 President KORENAGA Shun welcomed the new entrants and offered a few words of encouragement: "I ask that you begin creating your futures here at APU, a safe campus in the welcoming urban hot spring resort of Beppu, which is situated in the history-rich prefecture of Oita on the island of Kyushu, the source of Japanese culture. I believe you will face a completely new world in four years when you graduate, so please take advantage of APU's multicultural campus to mold yourself into a self-directed and independent learner. I pray for your success".

YOO Jin Wook (APS4, Korea) addressed the audience on behalf of the current student body and HA Thao Nguyen (APS, Vietnam) and ALYS Piotr Lukasz (GSMM, Poland) spoke on behalf of the undergraduate and graduate new entrants.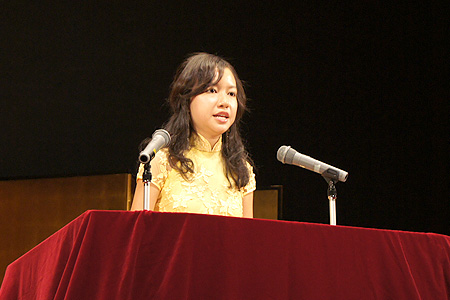 Speaking on behalf of the new undergraduate students, Ms. HA shared her aspirations for the future, "This is only the beginning of my journey. For the first time in my life, I'm going to spend four years away from my family, living in a foreign country, and speaking a language I'm barely fluent in. In the next few days, I will be attending my first classes at APU. I feel excited, nervous and, above all, I feel motivated to learn from professors and friends all over the world".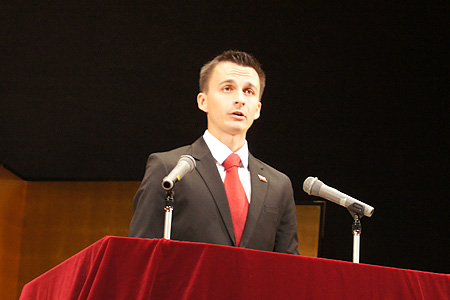 Mr. MALYS then spoke on behalf of the graduate school new entrants: "Let's get to know as many people as you can during our time here. There is no reason to be afraid of opening up to people from different parts of the world and or people from different backgrounds. My observation is that learning from others, allows you to learn about yourself. Believe it or not, this knowledge might be priceless for your future".
Many current students also came along to the ceremony to welcome the new entrants to APU and enjoy the colorful performances that followed including traditional Indonesian dance, Korean folk music and a Japanese drum performance.

The Entrance ceremony was also broadcast live on the internet via Ustream. Footage can be viewed here.
APU Gallery: