On Thursday, September 20, 2012, the Ambassador of Mongolia in Japan, Sodovjamts KHURELBAATAR, visited APU for the 2012 Fall Entrance Ceremony and met with APU President KORENAGA Shun.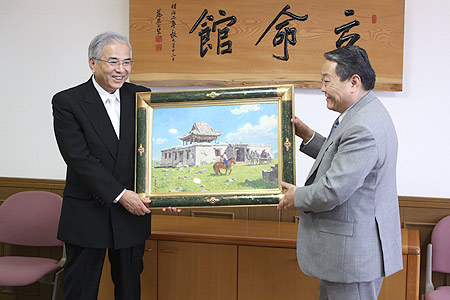 Following the Entrance ceremony, the Ambassador met briefly with President KORENAGA and discussed a range of issues including the current China, Korea and Japan relationship. At the end of their meeting, the Ambassador presented an oil paining depicting the remains of an important Mongolian temple.

Now serving his second term as Ambassador to Japan, Ambassador KHURELBAATAR was also an ambassador member of the APU Advisory Committee when the University first opened in 2000. This was the Ambassador's second visit to APU this year following his visit in February. He also visited APU in April 2005 as the then Director-General of the Asian Department at the Mongolian Ministry of Foreign Affairs.

APU currently has 20 students from Mongolia (as of September 14, 2012) and has concluded agreements with three Mongolian universities and institutions.