On Friday, September 14, 2012, family members, faculty and staff attended a ceremony to mark the graduation of the 7th batch of students on the Global Business Leaders Development Program (GBLP). This, the final batch of GBLP students, comprised of eight students from China, Korea, Vietnam, Indonesia, the Philippines and Sri Lanka.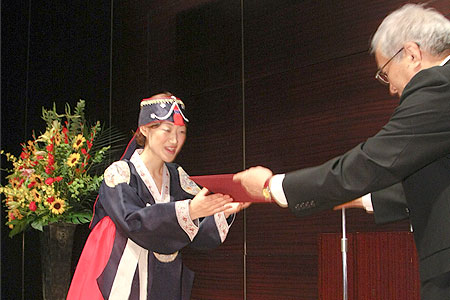 APU President KORENAGA Shun offered his congratulations and said, "Please apply the skills and spirit you acquired at APU in your future career. The GBLP was an outstanding project for Japan and your achievements can help to inform future educational initiatives at APU". GBLP Promotion Committee Chairman and APU Vice-President, HIRATA Junichi, then offered a few words: "University is a place for learning; society is the real world where you must take action and responsibility. You have all acquired the practical skills to take action and I look forward to your achievements". President KORENAGA then presented each student with a certificate of completion.

Each student then addressed the audience including IM Ha Na (APS, Korea) who commented: "The GBLP gave me specialist knowledge and also taught me the importance of friends. We are where we are today because we helped, supported and cooperated with each other". Looking back on his two years on the program, NGO Adrian Robin Bernardo (APM, the Philippines) shared his aspirations for the future: "When I graduate I plan to work for a Japanese company. I first aim to give something back to Japan, the country that helped make me the person I am today, and later contribute to the development of my home country".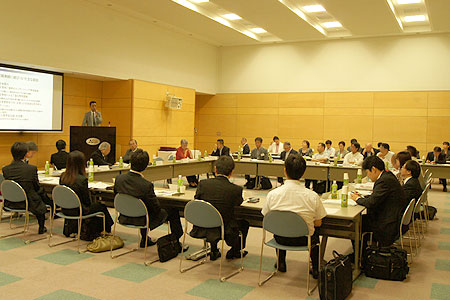 The final GBLP Partner Industry Meeting was also held on the day before the ceremony at which President KORENAGA presented a letter of appreciation and memento to representatives of each participating partner industry.

The GBLP began in 2007 under the auspices of the Japanese government-backed "Career Development Program for Foreign Students from Asia". A total of 71 students have since completed this program including this, the seventh and final batch. The results of this program will help to further promote global human resource development at APU.

The Global Business Leaders Development Program (GBLP)
Beginning in AY2007, the APU-proposed GBLP was adopted into the Ministry of Education, Culture, Sports, Science and Technology (MEXT) and Ministry of Economy, Trade and Industry (METI) "Career Development Program for Foreign Students from Asia". Designed to improve the international competitiveness of Japanese businesses, this program accepts exceptional students with a strong desire to seek employment in Japanese businesses from throughout Asia and equips them with specialist knowledge and Japanese language skills. The program sought to nurture globally-minded graduates with the ability to bridge Japanese business with the rest of the world. Government backing for this program concluded at the end of AY2011 and from AY2012 has been administered independently by APU.