The September 17-19 OECD Institutional Management in Higher Education (IMHE) General Conference was recently held in Paris, France, during which APU Pro Vice-President PORTER served as a plenary session panelist speaker on the subject of "how can higher education maintain and improve quality?"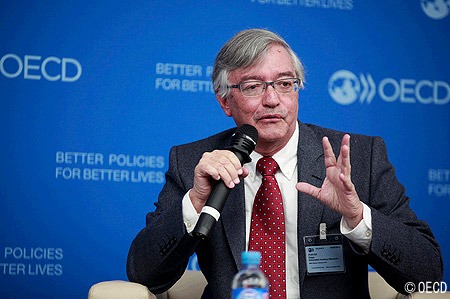 The plenary session focused on issues including reconciling larger and diverse student intakes with maintaining academic standards, institution autonomy, and strategies to enhance educational quality and improve the student learning experience.

In front of an audience of education policy makers, institutional leaders and academic experts, Pro Vice-President PORTER first spoke about quality assurance and university missions: "The way to ensure quality is to stay true to the mission of the university. At APU this means we never waiver from our founding mission to prepare our students as contributors in the Asia Pacific region, and focus on our commitment to internationalize our campus to the fullest extent possible. Otherwise universities drift away from their mission and become confused about their purpose".

Pro Vice-President PORTER then spoke about the development of dual degree programs: "It is important for universities to expand duel and joint degrees, and if this is to be done well, and with attention to quality, faculty members should take the lead in developing such programs with colleagues around the world, reviewing courses and programs of the participating universities while working closely with administrative staff to ensure seamless transfer of credit and other technical issues".

Pro Vice-President PORTER, who holds a doctorate in higher education administration, was invited to speak at this conference following APU and Ritsumeikan University becoming a joint member of IMHE member earlier this year.

Established in 1969, IMHE is a forum dedicated to the management of higher education institutions and currently has over 250 member institutions in over 50 countries around the world.