On December 7-9, 2012, the Asia Pacific Conference* 2012 was held at APU by the Ritsumeikan Center for Asia Pacific Studies. Held over three days, this international conference brought together researchers and scholars from Japan and as far afield as the UK, Sweden, Australia, Kazakhstan and Indonesia. Participants from 31 institutions in 13 different countries/regions attended the conference.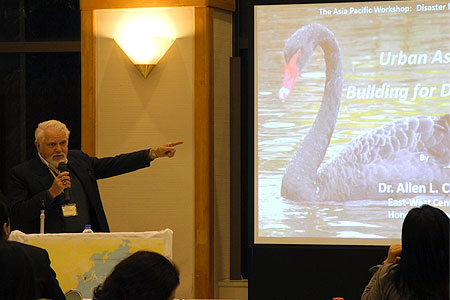 The conference featured a keynote speech by Prof Michael Glantz ( Institute of Arctic and Alpine Research, University of Colorado, Boulder) during which he spoke discussed the issue of coping with changing natural hazards in the 21st century. A second keynote speech was delivered by Dr. Allen Clark, Senior Fellow at the East-West Center, Hawaii, focusing on urban design in Asia and disaster preparedness. On day two and three, the conference broke up into panel sessions focusing on a wide range of different research areas that come under the umbrella of Asia Pacific studies including education, politics, economics, international relations, and public health.

The first two days of the conference included a research workshop for graduate students to more extensively discuss, critique, and improve their papers toward publication. Under the theme of "Disaster Management and Japan", participants presented their research into disaster management in Japan and related research areas.

Researchers who presented at this conference will be invited to submit a full paper article for publication in the next issue of the "Ritsumeikan Journal of Asia Pacific Studies".

*Begun in 2003, the Asia Pacific (AP) Conference is an annual event held by the Ritsumeikan Center for Asia Pacific Studies (RCAPS) under the concept of "shaping the future of the Asia-Pacific region" – one of APU's fundamental principles.