A Workshop Camp for Newcomers was held from the November 24 to November 27, 2005 at the ASO National Youth House (Aso City, Kumamoto Prefecture). More than 1,200 new students participated and enjoyed the 2-day camp.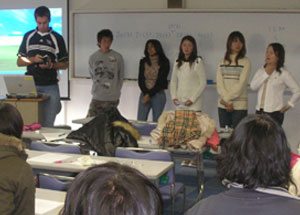 This camp was carried out as the part of a class for newcomers titled, "Workshop for Newcomers." It was held for domestic and international students to present the results of their research which they had been working on together. The camp aimed for domestic and international students to interact with one another and bring them closer together.
During the camp, participants were separated into different classes and took part in several exchange programs such as a presentation supported by 3rd and 4th year students, sports activities and T-shirt making.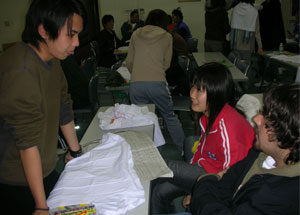 Also, students introduced greetings in their native languages and played a game called "Drama Challenge" where students were divided into groups of 5 and they had to choose a "place" and "situation" card. They then played out the role based on the chosen cards. For example, one of the groups picked "bath" and "tea ceremony" and entertained the audience with their creative play acting.
All the participants seemed to enjoy the workshop camp. They made lots of new friends and realized that a positive attitude is the key to communicating with people from different countries.