On December 18, 2005, the APU circle "Ai no Nami" held a LOVE FESTIVAL in the Millennium Hall as part of their ongoing efforts to raise support for the victims of the Indian Ocean tsunami disaster.
The Ai no Nami homepage can be viewed
here
.
Ai no Nami consists of many APU students from the Asia Pacific region and endeavors to give hope to people in disaster-stricken areas of the world. The LOVE FESTIVAL was held to raise awareness that people are still suffering in the tsunami affected nations and to widen the activities and scope of the circle.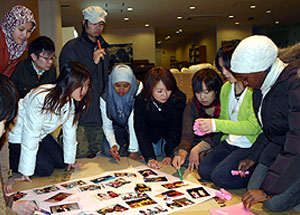 One of the first activities of Ai no Nami was a presentation titled "Heart Exchange Project" about the different plight of children in disaster-affected countries and Japan. A presentation that showed video footage and slides was also held by students who had visited the disaster-stricken areas of Indonesia and Sri Lanka. The circle also put on a stage show and introduced the culture and dances of Indonesia and Thailand.
As part of the LOVE FESTIVAL, Ai no Nami adopted the slogan "Love knows no borders" and released a theme song, and a large number of international students played a range of songs including ballads and rock numbers. In support of Ai no Nami, an independent band from Tokyo also took the stage.
During the festival, Ai no Nami sold an independent CD called "LOVE CD" to raise the awareness of natural disasters and volunteers. A total of 17 tracks were recorded based upon the themes of "Love & Care." The CD priced at 1000 yen is currently being sold at the APU Coop. The proceeds of the CD will go towards the school construction fund in Sri Lanka.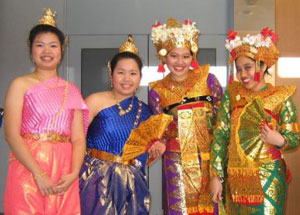 Next on Ai no Nami's agenda is a visit mid-February to primary schools in Sri Lanka by 10 of its members. Using picture books and play acting, the circle plans to hold classes on Japanese disaster prevention methods and plant some seedlings with the children. No matter what the future may hold, the members hope to plant some seeds of hope in the hearts of the children.