On Sunday, February 5, 2006, a colorful Graduation Party was held at Beppu B-con Plaza.
Approximately 120 people including students, faculty members and office staff gathered to celebrate the graduation of students in March. President Monte Cassim said in his greeting, "You will face wonderful times ahead and various challenges as you enter into society." Ms. DOKE Maiko (GSA-ICP 2nd year) who has an APU undergraduate degree under her belt, and who is currently pursuing postgraduate studies at APU also said a few words reflecting on her 6 years of college life.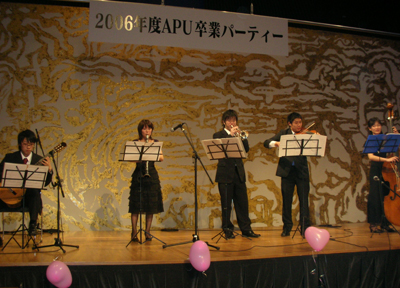 After the toast, the party goers enjoyed songs and classical music performed by a number of APU circles. The guests also took part in a survey called "Who is No. 1?" which asked people to vote for the "friendliest person" and for the "person who was the most involved in extra curricular activities" etc. The results were then tallied and a top male and female student was elected for each section.
While sampling the various dishes from the buffet, the students had a great night mingling with staff members and taking photographs with their peers and other guests. The party ended with all of the participants smiling for a group photo.