On January 23, 2006, the APU Student Theatrical Group "Kizuna" performed their first musical at the APU Millennium Hall. About 800 people came to see the musical and they were gripped by the songs and vivid performances of the 36-man cast.
Mr. MORI Atsushi (APS 1) adapted the original Broadway musical of West Side Story for the APU cast.
The Student Theatrical Group "Kizuna" was established in November 2005 and currently there are over 100 students registered as members. Mr. Robert THOMPSON who played one of the leading roles is an APU administrative staff member from New Zealand and studied vocal music while a University student. Ms. MATSUMURA Natsuki (APS 2) played the leading role of Maria who falls in love with Tony played by Mr. Thompson. Ms. Matsumura has the experience of performing in a musical in the United States of America.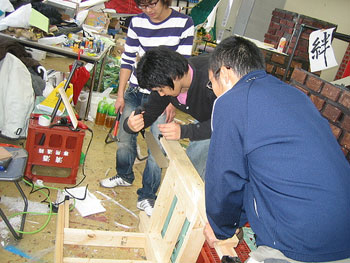 Members of the Student Theatrical Group "Kizuna" include students and office staff members from a range of different countries. The troupe only had a short 2 months to prepare for the play, but they hoped through their performance they would be able to communicate their understanding of different cultures and promote internationalization in Oita Prefecture, Kyushu.
The audience was both impressed and touched by the students' performance. One of the cast members, Mr. KATAI Junichi (APM 2) said, "Most of the members did not have prior experience in making musicals so it was quite hard at first, but they worked hard to create the best musical they could and to entertain the audience." The group hopes to spread their wings not only at APU but throughout Oita City.