On Saturday, March 4, 2006, an APU Public Lecture was held at "Sala De Usuki" in Usuki - a City which has an exchange agreement with APU.
It was the last lecture for academic year 2005 and Professor ITO Yasuhiro in the Graduate School of Management at Ritsumeikan Asia Pacific University spoke on "The Establishment of a Regional Brand – Development of New Souvenirs Products" and explained about the process of establishing a region as a brand and taking advantage of it to stimulate the regional economy. Participants interested in the revitalization of local areas asked various questions and a lively discussion was held.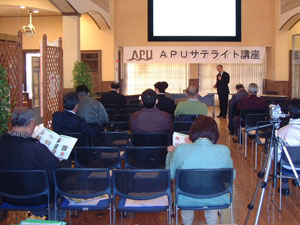 The Last APU Public Lecture for AY2005
The 2005 APU Public Lectures (first-half) commenced with a lecture on "Towards Mutual Understanding between Students and Local Citizens" by Mr. Shimizu Tateo (Asahi Shinbum editorialist, and chief editor of the newspaper's University Rankings). As Mr. Shimizu pointed out, foreign students are integral to Japan's future and he discussed ways in which Japan can make itself more attractive to international students. A large number of local citizens and students attended the lecture and took part in the animated discussions.
The second half of the program was carried out by various municipalities from Oita Prefecture, which have friendship agreements with APU, and the speakers based their talks on the regions they were from.
Prof. NAKATANI Yoshio, Professor in the Ritsumeikan University College of Information Science and Engineering held a lecture on "Disaster Prevention and Information – Concerning the Current Situation in Usuki City." Prof. FUKUTANI Masanobu, Professor in the College of Asia Pacific Management spoke on "Aim for an Active Lifetime – Growing Old and Skill Development," and Prof. KIM Chan Hoe in the College of Asia Pacific Management lectured on the theme of "The Relationship between Japan and Korea from the Point-of-View of Traditional Legends."
APU will continue to carry out APU Public Lectures that appeal to a wide audience in the academic year 2006. Local citizens are more than welcome to attend the interesting sessions.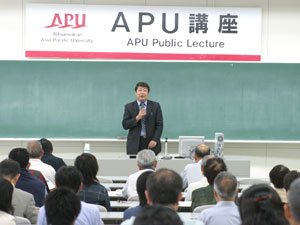 The First APU Public Lecture for AY2005