On Monday, March 20, 2006, the Ritsumeikan Center for Asia Pacific Studies (RCAPS) and JETRO-IDE held a symposium on the theme of "Experience of Japanese Local Industrial Promotion Policies and its Lessons to Developing Countries – Review on the One Village One Product Movement." The symposium was held with the support of the Oita One Village One Product (OVOP) International Exchange Promotion Committee.
The symposium commenced with a brief report on the collaborative research by Mr. MATSUI Kazuhisa from JETRO-IDE and Mr. YAMAGAMI Susumu, Dean of Academic Affairs. Then the Former Governor of Oita Prefecture, Mr. HIRAMATSU Morihiko gave a special lecture on "How to view the OVOP Movement and International Cooperation". Mr. Hiramatsu spoke about Oita's specialty products, "Seki Aji", "Kabosu" and "Donko" and said that by attaching brands to Oita's specialty products, particularly in villages where it is difficult to establish industries, it would help to stimulate the economy.
The second half of the symposium was divided into 2 sessions which included a report on the research progress. The Dean of the College of Asia Pacific Management, Mr. IGUSA Kunio led the first session and Mr. MATSUI proceeded with the second session. During the essions, "Local industrial promotion and OVOP" and "How to adopt the OVOP in developing countries" were discussed. Then Mr. SAKAI Sotaro (APS 3) from the APU Circle, PRENGO reported on the OVOP Volunteer Activities in Thailand. Mr. MATSUI closed the symposium by expressing his hopes for the development of research in this field.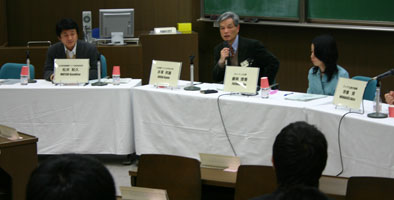 Also, on the same day, the Foreign Minister and the Minister of Home Affairs of the Republic of Malawi and officials from the Embassy of the Republic of Malawi visited APU. The Foreign Minister toured the campus and had talks with the Dean of Admissions, Mr. YOKOYAMA Kenji regarding the acceptance of students from the Republic of Malawi.