APU welcomed 1,057 new spring semester students at the 2006 Spring Entrance Ceremony held in the Auditorium of Beppu B-con Plaza on Saturday, April 1. The 1,018 undergraduate (766 domestic and 252 international students) and 39 graduate students (6 domestic and 33 international students) hail from 38 different countries and regions. New students from Oman, Venezuela and Kyrgyz Republic represent their respective countries for the first time.
The ceremony commenced with welcoming addresses and words of encouragement from Ritsumeikan Trust's Chancellor Mr. NAGATA Toyoomi and APU President, Mr. Monte CASSIM who said, "The world awaits your contribution to the furtherance of peace and prosperity in all corners of the world. I urge you to take advantage of the multicultural environment and the multilingual opportunities of education we offer you here to the full."
Ms. KIM Jie Yeon (APM3, Korea) in her message on behalf of current APU students said, "APU offers numerous opportunities. Find something you like and commit to it. The very foundation of being a student is in the academics, but do not hesitate to enjoy and explore the multicultural environment and abundant extracurricular activities that APU has to offer."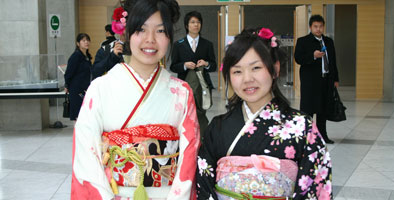 Ms. ARIMA Risa (APS, Japan) addressed the audience on behalf of the new undergraduate students, saying, "The 21st century is upon us: this is an era in which the nations of the Asia Pacific – a region exerting an ever-growing influence on the world economy and industry – will be required to make an even greater contribution to the development of international society. I am sure all the new students share my desire to make APU the ground on which we take our first steps towards becoming active international citizens."
Mr. SCHROEDER Alan (GSM-MBA, Canada) spoke on behalf of the new graduate students and said, "Each of us is embarking on a new step in our lives. Over the next couple of years, we will experience exciting opportunities and challenges. I believe that our education at APU, inside and outside the classroom, will put us into a position to effectively respond to those opportunities and challenges."
The hopes of the new students were evident on their faces as they listened to the various speeches.
As a finale to the Entrance Ceremony, current APU students introduced various circles through short performances and led the new students into a rousing cheer of the School Motto – "We Can Do IT!"