The Final Presentation of the AY2006 Academic Camp was held at APU between May 6 and May 7, 2006.
Academic Camps first commenced in the academic year for 2001 and over a one-month period students prepare for sessions, which touch on a range of different fields. The purpose of the camp is to give junior students the opportunity to hear from their seniors and to learn about campus life and effective ways to approach reading documents and methods for giving presentations.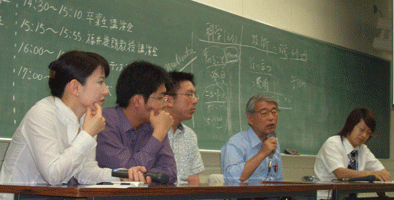 One of the main differences to last year's camp was the more central role of second-year students and the division of the international exchange team into two areas - International Law and International Politics. This arrangement aimed at achieving more intensive study sessions. This year, discussions and lectures were given on the seven themes of Environmental Ethics, International Politics, International Law, Gender, Marketing, Cultural Anthropology and Media.
Approximately 100 hundred students exchanged opinions and draw on their preparations held over a month before the camp. The participants had opportunities to hear from lecturers and graduates and to learn more about what it's like to study at APU.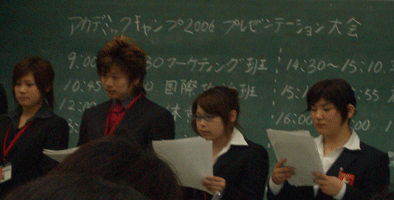 In talking about the camp, student organizer, Mr. HIRAIZUMI Taku (APS 3) said: "I hope this camp can be incorporated into the University life of all new students. I am aiming for an even better camp next time drawing on student-to-student style teaching."