On Saturday, May 13, as a finale to the welcome month for new students to APU, the student circle "Base Events" organized the "2006 PicaPica Welcome Festival." Approximately, 500 current and new students participated in the festival and welcomed new peers from over 38 different countries and regions.
New to this year's festival was a welcome committee comprising of four separate APU circles (the Committee for Welcoming Freshmen (CWF), the Academic Union, the APU Sports Circle Association (ASCA) and University Festival Base Event) who joined forces under the shared purpose of welcoming new freshmen and encouraging their active participation in the variety of circles offered at APU.
The theme for this year's festival was a message from APU: "APU (up) to you", this being "APU: A place where everyone can shine." All of the projects were planned to deepen exchange thorough interaction among participants. As new students naturally feel a little anxious when they first commence their studies, current students used the festival as an opportunity to encourage their juniors to take their time to adjust to university life and to discover the right paths for themselves.
Despite the rainy weather, the festival was a huge success with stage performances organized by a range of student circles and groups, food stalls, a flea market, performances by amateur dancers hailing from throughout Kyushu and opportunities for new students to consult senior students about lifestyle-related issues through the "Dream Support Project."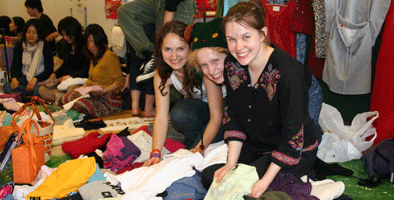 Upon commenting about the festival, representative of "Base Events" Ms. ERA Hitomi (APM2, Japan) said, "It wasn't easy putting together a successful event with many of our senpai (seniors) away doing job-hunting, but we wanted to repay the kindness we received when first coming to APU and I feel all team members took the responsibility seriously and put on a great festival. We'd like to express our thanks to everyone who lent their support."