The Shinjin Performance "Tsunagari" was held at the APU Millennium Hall on July 18, 2006.
The event was organized by the Executive Events Committee made up of members from 6 Japanese traditional performing art clubs at APU and included "wadaiko" (Japanese drumming) and "kagura" (Shinto music and dance).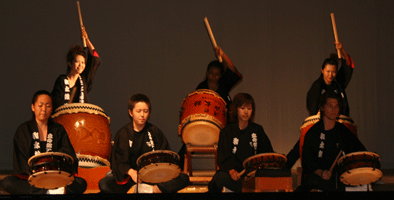 "Shinjin" in the title means that the performance is geared towards new students and aims to give the 6 clubs the opportunity to demonstrate their new dynamics. There were 8 performances in total and between the acts the "Katari" (storytelling) club gave detailed explanations about the performances and how they tie in with one another.
The event focused on the "tsunagari" or connections between the circles. The aim of the committee members was to hold an event where the performers and members of the audience would have the opportunity to meet new people and to showcase various performing arts. They hoped to convey how well the respective arts compliment one another.
The Millennium Hall came alive with the audience enjoying the charming performances by the students.