A number of APU student club members took advantage of the summer holidays to engage in exchange activities with a number of student clubs from Ritsumeikan University (RU).
The first was a Taekwondo Exchange Event held over 2-days from August 5-6. The aim of the sporting event was to give APU students the opportunity to communicate with students from RU, to improve their Taekwondo skills and to build a good rapport with the other players so they can support each other on their way to national competitions.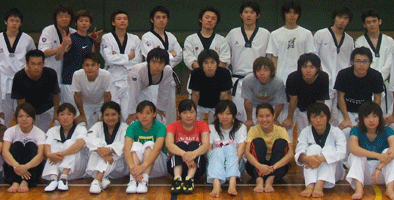 The Taekwondo event commenced with introductions, followed by a rigorous training session and some icebreaker activities. A lively dinner party was held in the evening. On the second day, RU demonstrated some fun ways to approach training and afterwards took the APU students on a tour around Kyoto. The 2 days were a great opportunity for the members to get to know each other better.
After the Taekwondo event, the RU Men's Basketball Team came to APU for a summer camp between August 12 and 18. On the 13th, the APU Dolphins (APU Men's Basketball Team) had a joint practice session with Ritsumeikan University. By practicing with RU - one of the top teams in Kansai area, it helped the APU Dolphins to greatly improve their technical capabilities and to enhance the player's motivation levels. Many members from the APU Dolphins said they hoped to make the most of this experience and through focused training produce good results in the upcoming summer competitions.
Lastly, the APU Broadcasting Center (APU STATION) and Ritsumeikan University Broadcasting Center (RBC) joined forces to hold a 4-day event on the Biwako/Kusatsu Campus (BKC) from August 22. The RBC consists of more than 140 members and the APU station is hoping to establish a similar on-campus radio and television station. Over the first 2-days, members of the APU Station took part in various activities organized by RBC and learned various techniques relating to 4 main areas - announcing, video, sound and production. On the last day, APU Station participated in a radio-making exercise with RBC.
Through the exchange events, all of the student clubs were able to deepen their relationship with Ritsumeikan University. The club representatives commented that they plan to make use of this experience when carrying out future activities.