In efforts to promote dialogue about the One Village One Product (OVOP) movement, which has been widely adopted throughout Japan, Asia and Africa, "The One Village One Product International Seminar in Oita 2006" was held at the APU Millennium Hall on October 20, 2006.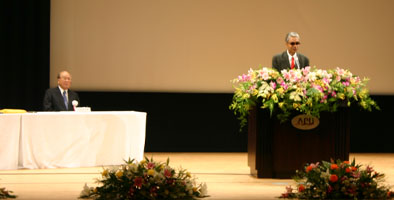 It served as a unique opportunity for researchers, government officials and people associated with implementing the movement to assemble in the one location and discuss issues associated with economic disparity between rural and urban areas and report on initiatives being adopted in their home countries. This international seminar was held in Chiang Mai, Thailand in 2004 and in Xian, China in 2005.
Approximately 600 participants gathered in the APU Millennium Hall for the international conference, including APU students and OVOP program delegates from over 26 countries and regions.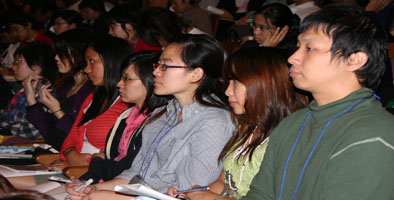 APU President, Mr. Monte CASSIM commenced the morning session with a few words of welcome followed by lectures and a keynote speech delivered by Mr. HIRAMATSU Morihiko, the Administrative Director of the International Exchange Promotion Committee of One Village One Product in Oita.
The afternoon session included presentations on various case studies based on the following three themes: 1) Specific Methods of Promoting OVOP in Developing Countries; 2) Ways of Fostering Regional Leaders for OVOP and; 3) Establishment of an International Promotion System for OVOP. Interesting discussions of the issues took place during the question and answer sessions.
The TBC news caster, Mr. CHIKUSHI Tetsuya (Ritsumeikan University Visiting Professor) came to APU to report on the seminar, and footage was shown on his NEWS23 Program (October 20).