On Thursday, November 16th 2006, APU held its 10th Top Executive Lecture in the APU Millennium Hall on the theme of "Turning Dreams into Reality – Challenging the Frontiers of Innovation." On this occasion, APU welcomed Mr. KUROKAWA Hiroaki, President of Fujitsu Limited as guest speaker.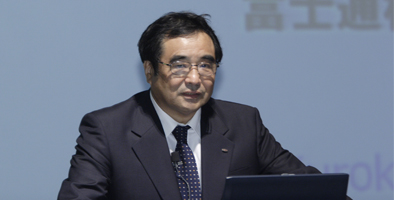 To the excess of 700 students, faculty and local citizens, Mr. Kurokawa gave a detailed corporate overview of Fujitsu and spoke about the company's organizational structure and "DNA". He pointed out that corporations are like human beings with "unique characteristics and traits" and that it's crucial to the success of any company to foster a strong corporate culture.
Mr. Kurokawa also spoke at length about how, since his appointment as President in 2003, Fujitsu had created "Four Key Challenges" as part of the process of re-vitalizing the company in the wake of the difficulties suffered following the collapse of the IT bubble. He also outlined in detail the measures to achieve those goals, and went on to give his thoughts in relation to his own style of management.
Following his presentation, students were given an opportunity to ask the President some questions. A number of international students expressed an interest in working for a Japanese company and asked for Mr Kurokawa's advice on job-hunting in Japan.
Mr. Kurokawa's answered the student's questions frankly and his lecture provided students with wonderful insights into Fujitsu and the business world. He expressed the hope that students at APU would consider Fujitsu for future employment and assist the company on its way to opening up new markets around the globe.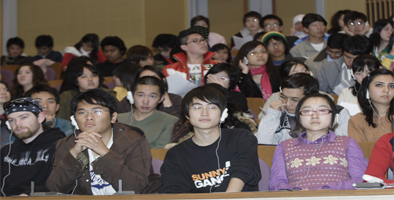 Two further lectures are planned in this series (details below).
The 11th Top Executive Lecture
Date: Friday, December 8th, 2006 14:20-15:50
Speaker: Mr. Tadao Takahashi, Executive Vice President of Nissan Motor Co., Ltd.
Theme: "Globalization of Nissan"
- How to live at a time of global business -
The 12th Top Executive Lecture
Friday, December 15th, 2006 14:20-15:50
Speaker: Mr. Yoji Ohashi, Chairman of the Board of All Nippon Airways Co., Ltd.Theme: Theme: "Anshin, Attaka, Akaruku Genki!"
- ANA, aiming to be NO.1 Airline in Asia -