"Mongolian Week", held from November 6th-10th, brought a powerful yet colorful wind from the great steppes of Mongolia to the Jumonji plateau of APU.
With students from over 70 different countries and regions around the world at APU, "Multicultural Weeks" are held to showcase the languages and cultures of a diverse range of countries. "Mongolian Week" came to life after 6 months of hard work by over 100 students that were predominantly Mongolian students but included others from Japan and abroad.
For the duration of the event, traditional Mongolian food was available for purchase at the university cafeteria, and a number of sub-events including a Mongolian wrestling demonstration, handicraft exhibition, movie night and a 2-hour concert were held on-campus.
The concert held on November 9th was a great success in bringing together both traditional and modern elements of Mongolian culture. A number of unique dances, songs, and special performances were incorporated into the night. A colorful fashion show also displayed the beauty of traditional clothing and perhaps even generated some admirers of Mongolian beauties!
The performance using the horse-headed Mongolian traditional string instrument called "Morin Huur" was successful in touching the hearts of more than 700 people who made up the audience. A highlight for many was when Kyokushuzan, the famous professional Sumo wrestler from Mongolia, took to the stage.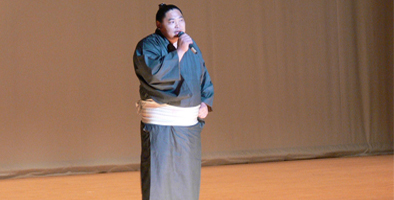 "Mongolia Week" was indeed a week to remember. We hope to hold more events in the future that will introduce the culture and customs of Mongolia at APU.
A large number of other events promoting APU's multicultural campus such as "Oceania Week" and "Sri Lanka Week" were held during the Fall Semester.
Please click
here
for more details.