Under the guidance of APS Professor TODOROKI Hiroshi, fieldwork titled "Tracing the History of the Bungo Kaido (Road)" is being carried out in Oita and Kumamoto Prefectures during the Winter Session. Fifteen students will participate in the field study and have formed the "Bungo Kaido Tourism Development Project Team". Over a five day period from March 20 to March 24, the students will walk the 124 kilometer length of the Bungo Kaido.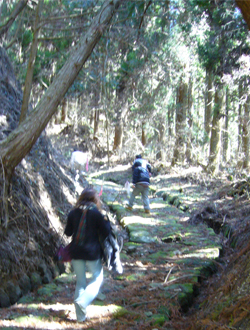 The Bungo Kaido was completed in the 6th year of Keicho (1601) by the ruler of Higo province KATO Kiyomasa, and thrived as an important transportation route between the castle town of Kumamoto and the Tsuruseki region of Bungo which boasted a military strength of over 20,000 troops. Historical figures such as KATSU Kaishu and INO Tadataka are said to have traversed the road, and after Kanei 9 (1632) was apparently used by HOSOGAWA of the Higo clan during his travels to the Shogun's court. Also, during the Seinan War the road became the scene of violent conflict as the military fought back repeated uprisings. Many of the traditional rows of houses and buildings still remain intact along the length of the Bungo Kaido.
There are a number of reasons why Bungo Kaido was selected as a focal point in this field study. Firstly, the "Kaido Walk" was established as a tourist attraction using the momentum generated by the 400th anniversary of the establishment of the Tokaido (Eastern Sea Road) in 2001. This new type of tourism referred to as "inspection travel" encourages tourists to engage in walking for health reasons and to absorb the history in local areas. The second reason is because the old "Bungo Kaido" is in fact located here in Oita Prefecture at the site of Ritsumeikan Asia Pacific University.
The objective of this fieldwork is for participants to feel the identity and history of the local area in order to make business plans for tourism based on these experiences. It is also hoped that the results of the fieldwork will help kick start local tourism in the area.
Fieldwork participants are currently conducting research into literature as part of a pre-departure study-session. Throughout the walk, they will have the opportunity to listen to presentations from various individuals, and also to meet and interact with the locals and learn about their lifestyle. The participants are hoping that the results of this fieldwork will contribute to not only to the revitalization of the areas lining the road, but the whole of Kyushu.
Please refer below for details:
"Tracing the History of the Bungo Kaido (Road)"
Date
: Tuesday, March 20th – Saturday, March 24th
Place
: Bungo Kaido (Road) (Will depart from Kumamoto Castle)
Sponsors
: Tourism & Hospitality Institute, Ritsumeikan Asia Pacific University
(Student Members: 15)