APU welcomed 1,177 new students at the 2007 Spring Entrance Ceremony held in the Auditorium of Beppu B-con Plaza on Saturday, April 1st, 2007.
The 1,138 undergraduate (819 domestic and 319 international students) and 39 graduate students (5 domestic and 34 international students) hail from 40 different countries and regions. For the first time, students from Liberia, Guinea and Gabon have joined the APU family.
APU President, Mr. Monte CASSIM encouraged the incoming students in his greeting:
"The APU mission is based on a vision of freedom, peace and humanity, with mutual understanding as the bedrock for shaping the future. I urge you to keep this mission in mind at all times, as you apply your knowledge for the benefit of humankind and planet earth."
A welcome speech on behalf of the current students was delivered eloquently by Mr. MUNGAI John Njoroge (APM, Kenya). Ms. NOGAMI Chiyumi (APS, Japan) also shared her passion in an address on behalf of the matriculating undergraduate students:
"I am sure we all hold our own dreams and hopes for the future. Let us never forget this exhilarating feeling of pursuing a dream, and enjoy our university life studying alongside new friends. Let us shine boldly as we mature, and live a life without regret."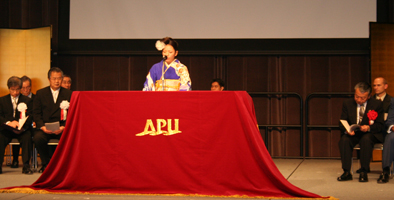 Afterwards, graduate school representative, Mr. LAUZON, Alden Wilfredo Quimbo (GSA-APS, Philippines) shared a message to the incoming students:
"While here [at APU], it is contingent upon me and all new overseas students to be well-mannered and rule-abiding. By aspiring to be good or even outstanding students will be one of our many contributions to APU."
Before the start of the ceremony, APU had the opportunity to talk with incoming student, KORVAH Tarnue Kootee (APS), an ex-refugee from Liberia. To learn more about his journey before coming to APU, please click
here
.
As a finale to the Entrance Ceremony, current APU students introduced various circles through short performances and the Millennium Hall came alive with the audience enjoying the enthusiastic performances by the students.