In recognition of the Middle East as an important region for international study development and cooperation, APU in cooperation with the Japan Cooperation Center for the Middle East and Nihon Keizai Shimbun held the "Middle East – Japan Forum".The forum which was held over 3-days at two locations in APU and Tokyo from March 26th (Mon.) until March 28th (Wed.) was part of APU's undertaking with the Japan Cooperation Center for the Middle East's Japan Program.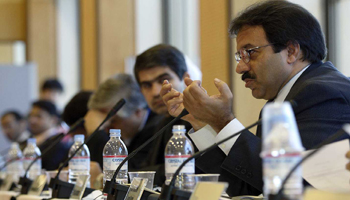 Aside from lectures delivered by Mr. KUROKAWA Kiyoshi (Special Advisor to the Cabinet) on March 26 and by Mr. NEMOTO Jiro (Chairman of the Japan Cooperation Center for the Middle East) on March 28, a round-table discussion on the theme of "The Role of Higher Education in Global Innovation and Human Development" took place on the last day of the conference.
Over 60 invited guests attended including many academic experts such as University Presidents and Deans from 11 countries in the Middle East and opinion leaders from various sectors in Japan. The delegates including 16 from the Middle East engaged in an animated exchange of ideas and opinions. Common issues confronting Middle Eastern countries and Japan were brought up and the forum presented an ideal opportunity to promote greater understanding regarding the promotion of future cooperation and exchange between the Middle East and Japan.
This Forum is a result of APU's active undertakings related to the Middle East region. It has also been a great step in the promotion of future academic development in the Middle East region. Building on the results of the forum, future cooperative efforts with Middle Eastern countries are expected to be focused on the following five points.
1. Cooperation and joint-efforts between higher education institutes in the areas of education, research, and international liaison. For example, the promotion of research topics emphasized by APU such as International Movement, Resource Security, Global Innovation and Human Development; Distance Learning; Japanese Language Education; Student Exchange; and Joint Research including Islam Culture, Environment, Resources, IT and Faculty Exchange.
2. Cooperation with intermediate educational institutions. For example, the setting up of APU courses, High School-University Cooperation, High School-High School cooperation and Exchange
3. Cooperation with the industrial sector. For example, secure a venue for Active Learning, Employment, Training of Global Human Resources
4. Securing self-supporting or government supported international students.
5. Establishing the basis for the formation of an international fund.