The AP House Welcome Ceremony was held from 17:30 on Tuesday, April 3rd.The event commenced with a lively performance by the APU Symphony Orchestra. After being formally welcomed into APU at the Entrance Ceremony on April 1st, more than 600 new faces turned out for the festivities.
For his opening words, APU President Cassim expressed his hopes for the new residents. This was followed by self introductions from each offered some advice to the students in making the most out of the educational opportunities presented from living in the dormitory.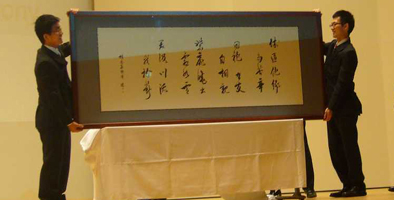 APU was presented with two framed calligraphies from Kumagai Gumi, the construction company who built the new buildings at APU. Two RAs received the gifts on behalf of AP House. These calligraphies which have poems written by HIROSE Tanso inscribed on the frames can be viewed in the lobbies of the dormitories. Afterwards, Ms. NIRO Tomomi made a speech on behalf of the new residents.
At the conclusion of the formalities, a large number of students participated in a "Welcome Dinner" hosted by President Cassim in the APU cafeteria. The party was held with the cooperation of the Co-op.
Two student groups, "MUSY TONE" and "Yoshakoi" brought the cafeteria to life with exciting performances to welcome the new residents.