The 6th APU Sports Festival postponed to Saturday, May 19th was unfortunately cancelled mid-way due to rain.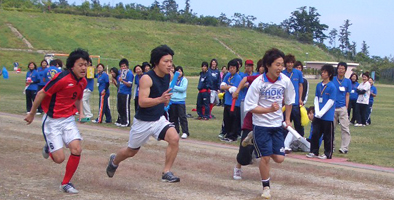 However, a few events went ahead including tug-of-war and a relay which saw over 50 participants take part. The relay participants battled it out for 10,000yen worth of prizes. A few circles put on performances including Double Dutch, Wadaiko "Raku" and Yosya Koi.
On commenting on the APU Sports Festival, the representative of the Sports Festival Committee, TAKARA Ken (APM2, Japan) said, "I am so appreciative that so many turned out on the day. I hope to draw on this year's experience and help to put on an even better APU Sports Festival next year."