We were deeply saddened to hear of the passing away of Dr. HIRAIWA Gaishi on May 22nd after a long and fulfilling life. He was 92 when he expired.
Dr. HIRAIWA Gaishi was a well respected figure both internationally as well as in Japan. A leading captain of Japanese industry, he held the distinguished posts of President and Chairman of the Tokyo Electric Power Company and also was Chairman and Honorary Chairman of 'Keidanren' - Japan's Federation of Economic Organizations (currently known as 'Nippon Keidanren' or Japan Business Federation).
Dr. Hiraiwa was a strong advocate for establishing Ritsumeikan Asia Pacific University (APU) and was integral in forming APU's Advisory Committee to gain advice and support from a wide range of circles. He was its founding Chairman, although he retired from the Committee in February of 1998, and continued to play an active role in supporting APU and establishing a scholarship fund for our overseas students.
In view of Dr. Hiraiwa's significant contribution to APU from its inception to its ongoing development, he was awarded an Honorary Doctorate Degree on April 2nd, 2003.
Words are inadequate to express our gratitude for Dr. Hiraiwa's contribution. We will always cherish his memory in our hearts and hold him in the highest esteem.
Monte CASSIM
President, Ritsumeikan Asia Pacific University
Vice Chancellor, Ritsumeikan Trust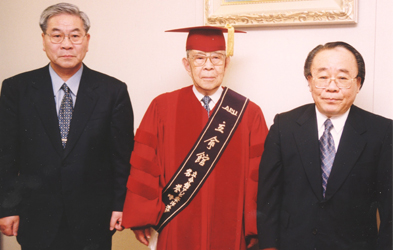 (Prof. HIRAIWA Gaishi on the day he was presented with an Honorary Doctorate Degree)