'Vietnamese Week' is part 2 in APU's ongoing series of "Multicultural Weeks" which commenced on Monday, June 19th.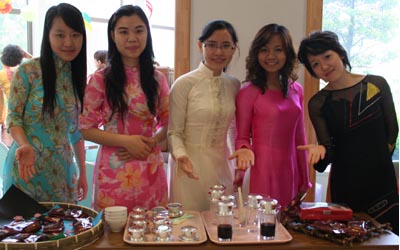 It commenced with an exhibition of traditional 'Áo dài' costumes and Vietnamese lanterns in the APU Cafeteria, and students were able to sample free Vietnamese coffee.
There are currently 160 students from Vietnam enrolled at APU with approximately 40 students from other countries taking Vietnamese language classes. (As per fall 2006 registration figures)
Through ongoing initiatives like the annual intensive short-term language program offered by the Vietnam National University in Ho Chi Minh City, students have the opportunity to deepen their understanding of Vietnamese culture and language.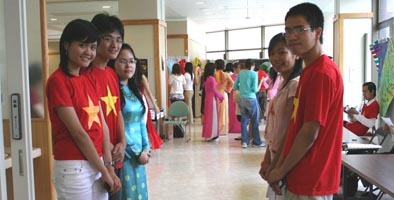 The program for Vietnamese Week is as follows:
Vietnamese Week - June 25 (Mon.) – June 29 (Fri.)
Event: Vietnam Soul Corner
('Áo dài' exhibition, lantern exhibition and Vietnamese coffee sampling)
Time: 10:00-19:00
Venue: APU Cafeteria
*The 'Vietnam Soul Corner' will be held everyday at the same time and place during Vietnamese Week except for the last day (June 29th 10:00 – 15:00).
June 27 (Wed.)
Event: Football Tournament
Time: 8:45-12:30
Venue: Ground
June 29 (Fri.)
Event: Vietnamese Performances
(Vietnamese dancing, singing, fashion show and screening of videos)
Time: 18:30-20:45 (scheduled time)
Venue: Millennium Hall