An 'Academic Exchange' agreement between APU and the APU Confucius Institute and Oita Broadcasting System (hereinafter OBS) was formalized at OBS on Monday, August 6, 2007. APU Vice President Mr. Yakushiji and the President of OBS, Mr. Shuto participated in the signing ceremony.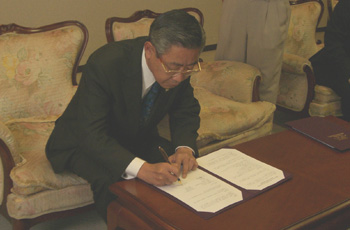 Through the close coordination and cooperation between APU and OBS in the fields of education and academic research, the agreement aims to foster internationally minded human resources and establish a human network with the rest of the world.
Under the agreement, APU, the APU Confucius Institute and OBS will be working together to hold language courses for local citizens. An Internship program for APU students at OBS is also being planned.
Established in 1953, OBS deals in advertising and radio and television broadcasts throughout Oita prefecture. For more details about OBS please visit the company homepage at
http://www.e-obs.com/toppage/top.htm