The Model United Nations Conference / Kyushu Summer Session, sponsored by the Model United Nations Kyushu Branch, was held for four days between Wednesday, August 22nd and Saturday 25th. The Summer Session was organized and held by APU and The University of Kitakyushu, both affiliated with the Model United Nations Kyushu Branch. The venue for the conference, which was last year held in Mojiko in Kitakyushu City, was APU.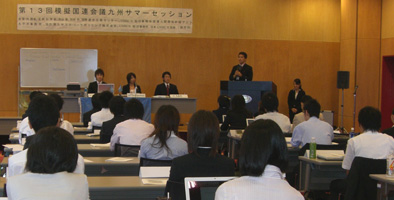 The theme of the conference was 'The Protection of and Aid for Internally Displaced Persons (IDPs)'. Approximately 50 undergraduate and graduate students affiliated with the Model United Nations gathered from universities throughout Japan to discuss the issues surrounding 'IDPs'. Internally displaced persons refers to those people wanting to flee a country for safety but who are unable to escape across the border.
The number of 'IDPs' continues to rise in countries such as Colombia, Iraq and Sudan, where the Darfur Conflict continues. These people are not receiving protection from their own governments or any effective international assistance. The international community is currently trying to find a solution to resolve the problem.
Mr. Saburo Takizawa, the Japan representative for the UNHCR (United Nations High Commissioner for Refugees) and a number of other guests from international organizations working towards offering aid to IDPs, and people involved in the academic research of the IDPs issue were invited to attend sessions on August 25th, the final day of the conference.
The APU representative for the Model United Nations, AOKI Masashi (APS2, Japan), made the following comments:
"Each member of the staff involved in the conference worked hard in making sure the 50 participants were all in the right places at the right times, and in the overall successful running of the summer session. This Kyushu Summer Session taught me a lot of valuable things, including the importance of working as a group and getting out there in front of people to show them what to do, where to go etc. I hope to use these experiences in my role as a university club leader."