Mr. Hideo Kageyama, Vice President of Ritsumeikan Elementary School and lecturer at Ritsumeikan University, gave a lecture in Oita City on Sunday, September the 9th.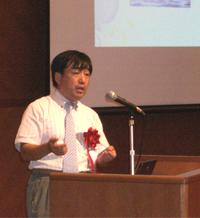 The lecture was held to commemorate both the forging of a cooperative agreement between Ritsumeikan University, Ritsumeikan Asia Pacific University and Iwata Gakuen in Oita City, and an APU/Ritsumeikan University course being established at Iwate Junior and Senior High Schools.
During his lecture on the theme of 'Increase Academic Ability in One Year', Professor Kageyama made the comment that "one of the keys to increasing academic ability is having the kind of lifestyle that encourages learning". He also spoke about what happened when the 'lifestyle of going to bed early, waking early and eating a proper breakfast' was put into practice.
The 300 hundred or so audience members took notes studiously as they listened to Professor Kageyama's points on raising academic ability, comments based on many years of experience in the educational field.