"PRENGO", one of APU's premier student organisations, made a Summer Support Trip to Thailand from 1st to 11th September 2007. This was the eighth trip since PRENGO was first established in 2003.
PRENGO members spent eight days of the ten-day trip engaged in activities at the school in receipt of their support, Ban Khao Huai Mahad School (later referred to as Mahad School) and spent the remaining two days visiting related establishments.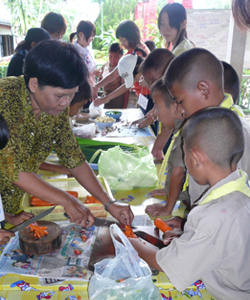 As part of the education for the children of Mahad School, PRENGO members carried out social studies field trips, sewing classes, lectures on nutrition and herbs through cooking classes, and also picture-story shows and short plays to teach about the dangers of AIDS and drugs. A project involving parents and local people was also carried out and the main activities were promotion of cultivating the farmland of each household and support for the manufacture of Thai trousers. In addition, a local assembly was organised in order to create an opportunity for an opinion exchange between PRENGO members and the local people, and around 50 local people gathered to enjoy this cultural exchange between Japan and Thailand.
After the activities at Mahad were completed, PRENGO members visited the "Harmony Life Organic Farm" to learn about fertilisers and farming, and then visited the AIDS facility "Wat Phra Baht Nam Phu".
During this trip, the teachers and former students of Mahad School showed great willingness in assisting with PRENGO activities, and with their continued active cooperation, PRENGO projects can become even more effective in the future.
We, the PRENGO members, would like to express our sincere gratitude to all the people in Japan and in Thailand who helped us make our 2007 Summer Support Trip a great success. We endeavour to improve upon our projects in order to continue our various activities in the future.
*A full report of the trip can be found on the PRENGO homepage under "Local Support"
https://www.apu.ac.jp/circle/prengo/index.html