On Sunday 4th November 2007, the "Japanese Traditional Culture Experience Day" was held at AP House and revolving around the international students who reside in the dormitory, a total of 32 students participated in the event.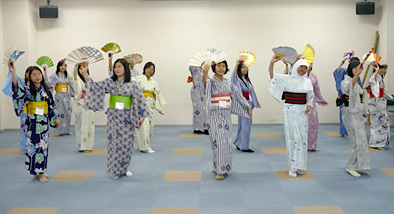 Carried out as a part of the dormitory's in-house programs, instructors of classical Japanese dance and calligraphy from the North Beppu Community Hall were invited to AP House to teach the students about each of these Japanese arts.
Learning classical Japanese dance in authentic style by wearing yukata, the summer kimono, and trying their hand at Japanese calligraphy, it proved to be a great opportunity for the students to learn about traditional Japanese culture.