On Friday 9th November 2007, the 13th Top Executive Lecture was held in the Millennium Hall. APU welcomed Mr YANAI Tadashi, Chairman, President and CEO of UNIQLO Co., Ltd. as guest speaker for the 2007 Top Executive Lecture. The title of Mr. Yanai's lecture was " World Enterprises from Japan: Change Clothes, Change Common Sense, Change the World ".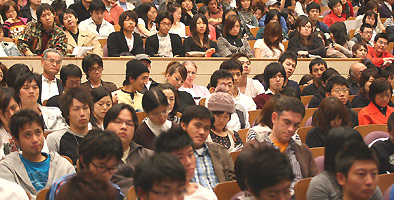 First of all, Mr Yanai talked briefly about the round-the-world-trip he made when he was young and then explained why he chose this particular trade as his profession. He then introduced the Uniqlo brand mission statement, "A new Japanese enterprise to produce casual wear that can be worn by anyone", and reported that Uniqlo is a company which is being developed as a new Japanese business venture in response to globalization.

With more than 1200 people filling the Millennium Hall, Mr Yanai encouraged the students in his parting message, "Aim high and pour all your strength into your study and work, and you will be able to achieve your goals. Please strive to become individuals who can make a contribution in today's world".