On Friday 23rd November, a panel discussion entitled "Overcoming Difficulties – A Talk with Carlos Ghosn of Nissan Motors" was held at the Kitagata Campus of the University of Kitakyushu, with the chief executive officer of Nissan Motor Company, Ltd., Mr Carlos GHOSN, as the principal guest. From APU, Mr SANEZ Jay Lito Mendez (GSMM2, Philippines), who is studying business management as part of the JDS Program (Japanese Grant Aid for Human Resource Development Scholarship), was invited to take part in the event as one of the panelists.The panel discussion was made possible as a result of Mr Ghosn's attendance at a new car launch at the Nissan Motors Kyushu Plant. With the support of Kitakyushu City and Kitakyushu Chamber of Commerce and Industry, the lecture was carried out in the form of a panel discussion between Mr Ghosn, business school students, and university and graduate students, who are currently studying management. Altogether around 700 university students and junior managers from the Kitakyushu area attended the discussion.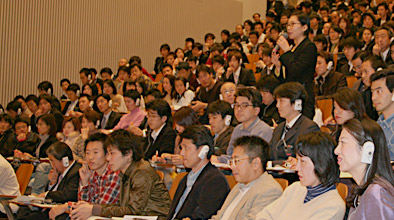 Together with Mr Sanez, two students from Kita-Kyushu Business School and one student from Kyushu University Business School participated as panelists in the event. On the theme of "overcoming difficulties", Mr Ghosn stated that the orientation of a company's strategy should be geared first and foremost towards profit, because a management structure which gives priority to anything else is just not logical. Later on he then addressed the audience and emphasised that there are always opportunities in front of our very eyes, and it is up to us to reap the benefits. He continued to say that the most important this is being able to listen and observe, otherwise it is impossible to learn the value of the opportunity being offered.
Mr Sanez expressed his impressions of the day, "Being able to interact with and listen to one of the most celebrated CEOs in the world was a very valuable experience. Mr. Ghosn's answers, which were based on his own wisdom distilled by experience, were very powerful and convincing".